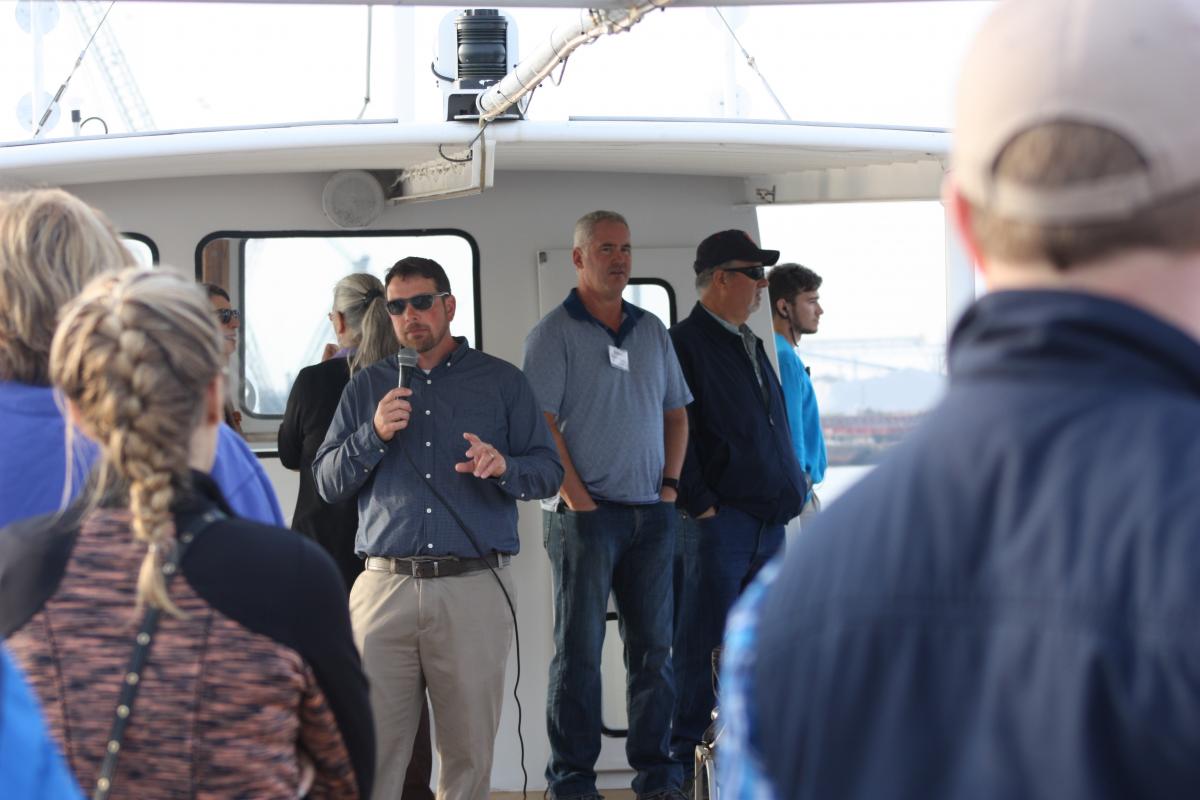 Application
Due to COVID-19 and uncertainties regarding the state budget, the VNRLI application process will remain open until early September. The application for the 2020-2021 Virginia Natural Resources Leadership Institute is available here (please disregard the deadlines listed). If you would like to send the recommendation form to your recommender separately, you can find it here. Incomplete applications will not be considered. 
How will COVID-19 impact the 2020-2021 VNRLI?
The first two sessions of the 2020-2021 program will be held virtually. Decisions about sessions 3-6 will be made on a per-session basis, with each being held virtually if we determine it is not safe to do so in-person. 
Dates/Locations/Topics*
*Topics reflect material covered in the 2019-2020 VNRLI and are subject to change based on the location selected. 
Orientation: September 16 - partial day, virtually. 
Session 1: November 11-13, 2020 - Virtually: Foundational communication and dialogue skills, personal leadership habits, structured dialogue, legacy of harm in the creation of Shenandoah National Park, mindfulness for leadership, and environmental justice.              
Session 2: December 9-11, 2020:  Fundamental group facilitation skills, the "Higher Ground" approach to setting group norms, conflict management styles, Chesapeake Bay water quality, fisheries, and coastal resilience.              
Session 3: January 13-15, 2021 - Richmond or virtually: Key leadership qualities, collaborative process design, group consensus, mindfulness for leadership, green economics, the ethics of advocacy lobbying, and Virginia's legislature. 
Session 4: March 3-5, 2021 - Coastal VA or virtually: Negotiation process preparation and practice, servant leadership, natural resources and local economies, oysters, the Cheseapeake Bay.  
Session 5: April 27-30, 2021 - Southwest VA or virtually: Public involvement, leadership without easy answers, rural economic development, the economics of extractive and renewable resources, coal mining reclamation, and the Clinch River regional collaboration.
Session 6: June 9-11, 2021 - Charlottesville or virtually: The "Open Space" group process, personal leadership goals, the values and ethics of leaders, green infrastructure, environmental justice, plus current topics of the VNRLI class's choice.
Program Fees & Payment Schedule
The program fee of $3,250 includes lunch each day, and at least one dinner at each session. It does not include additional meals, lodging, or personal travel. The program uses the University of Virginia's travel rate when arranging lodging and meals.
A non-refundable deposit of $300 is due by October 1st, and the remainder of the program fee is due by October 30, 2020.  Payment can be made by check or wire transfer; credit card payments are not accepted.
Scholarship Assistance
VNRLI recognizes that our society needs leaders who have a deep understanding of the impacts and opportunities of pressing natural resources, social, and economic challenges. We seek to invest in the careers of exceptional, passionate leaders from all backgrounds and ensure that our program reflects the racial, geographic, and sector diversity of our state. A limited number of need-based scholarships are available to cover the program fee, and in some instances the program is able to offer assistance with mileage (for travel to and from sessions) and lodging for recipients. Candidates from underrepresented communities are encouraged to apply.
If you wish to be considered for a scholarship, please attach a letter indicating your need for financial assistance and the amount of assistance you are requesting. All requests for assistance are confidential. 
Questions
Please contact Kelly Altizer at kaltizer@virginia.edu or 434-924-6569.